Hey there prom-goers! Event Floral is hosting two of its famous Prom Parties this year! The first is on Tuesday April 23rd from 3:30pm to 8:00pm. The second is Tuesday April 30th from 3:30pm to 8:00pm. Stop in either of those evenings to order your prom flowers and grab a slice of pizza and a pop. Bring your date, your friends, family members…


Our "Prom Special" is a coordinating wristlet and boutonniere for only $30! Ordered separately, a bout starts at $10 and a wristlet at $25, so ordering together at the party is a cost savings and a free meal! (or snack for the guys)





We'll have designers on hand to help you select flowers, ribbons, wire, and embellishments to compliment your prom attire. Girls, feel free to bring in your dresses so we can match the colors! We'll even have a back room set up to reveal your dress in secret if you want to keep it a surprise!
All prom flowers will be ready by noon the day before your prom.
Please call our studio at 815-885-3900 with any questions. If you could RSVP under our Facebook events if you're planning on coming, that would greatly help us make sure we order enough pizza. Our studio is located at 8181 Starwood Drive, Loves Park, IL 61111. Thanks!
In case you missed any of the bridal shows Event Floral participated in, we wanted to share our experience with you! Please enjoy the pictures and inspirations we've collected from our displays.
We started off the year at Giovanni's for Rockford's Own Bridal Expo. As always, there was a great crowd with lots of enthusiastic brides and grooms, friends, and family. We had a blast meeting lots of new faces and future Event Floral brides.
Next we coordinated with Photography by Kristen and Cake Creations on an inviting, inspiring set at the gorgeous Orchard Ridge Farms Pavilion for the non-traditional wedding show, Rockford Wed. Forget the typical vendor booth! Brides and their entourages got the opportunity to see and experience how local vendors can transform spaces and create the perfect looks for their weddings. We loved all the creativity and enjoyed the chance to provide flowers and decor for many of the vendors' displays as well.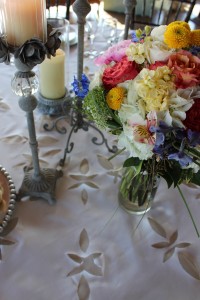 A handmade linen tablecloth was the perfect detailed foundation for this tablescape and wildflower bouquet.
Most recently we were at Cliffbreaker's for Rockford's Return to Elegance Bridal Fair. Event Floral's booth featured a variety of bouquets which would later walk the runway, accenting gorgeous gowns from Castronovo's Bridal. Additionally, Event Floral provided floral arrangements for the stage and centerpieces on every guest table.