January 30, 2015
Giovanni's Restaurant and Convention Center
2016 started off strong with the design and production of the 62nd Annual Pink Ball. Due to the wonderful collaboration between Event Floral, event co-chairs Allison Alexander and Theresa Harezlak, and the OSF Pink Ball committee, the event was seamlessly executed from initial design conceptualization to final production.
Event Floral assisted in all areas of the décor including floral centerpieces and arrangements, coordinating table linens and chair back treatments, fresh floral ceiling installation, design for a newly-added lounge area, custom built bar facades and unique back-lit boxwood hedge backdrops. SVL Productions provided room up lighting, hanging cafe style lights, and stage backdrop and lighting.
The endless creativity of co-chairs Allison Alexander and Theresa Harezlak, the helpful guidance of OSF Saint Anthony Foundation Director Rick Zumwalt and his staff, and the dedication of Giovanni's team members resulted in a truly unforgettable evening.
Allison and Theresa had envisioned a modern, French garden of greenery along with tailored accents and metallic touches to transform the ballroom into a fresh, vibrant escape from the January winter weather.
As we take you through this collection of photos, we hope you appreciate the outstanding scale of this event's design and their exquisite attention to detail.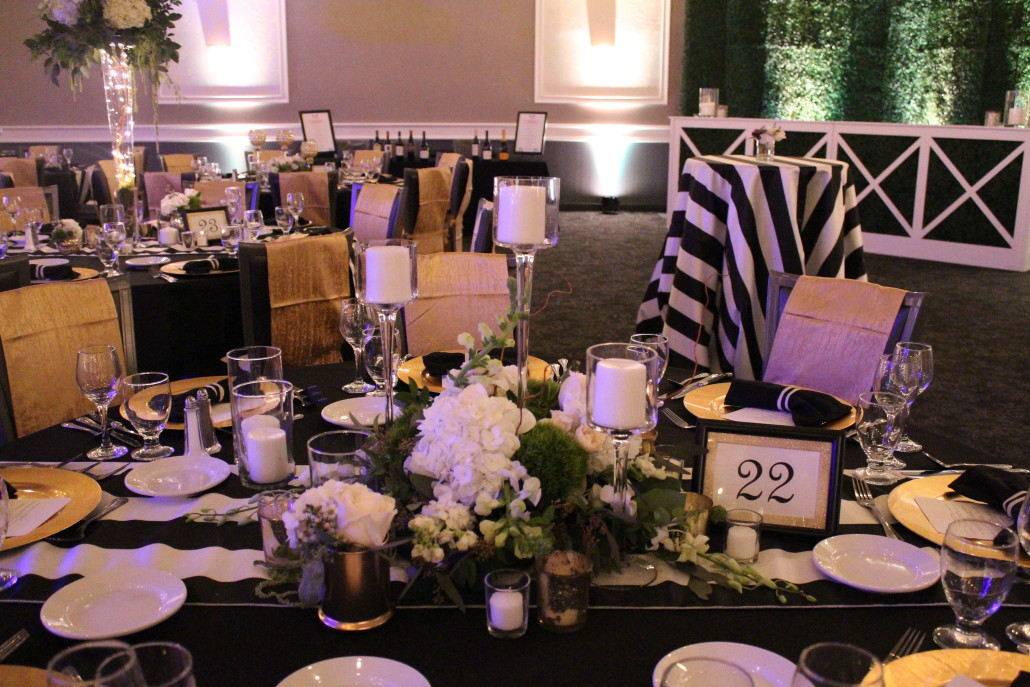 This example of one of the three table centerpiece looks demonstrates the desire for fresh, crisp white floral, ambient candle light, coordinating black and white striped tablecloths, runners and napkins, as well as incorporating fresh greenery throughout the room.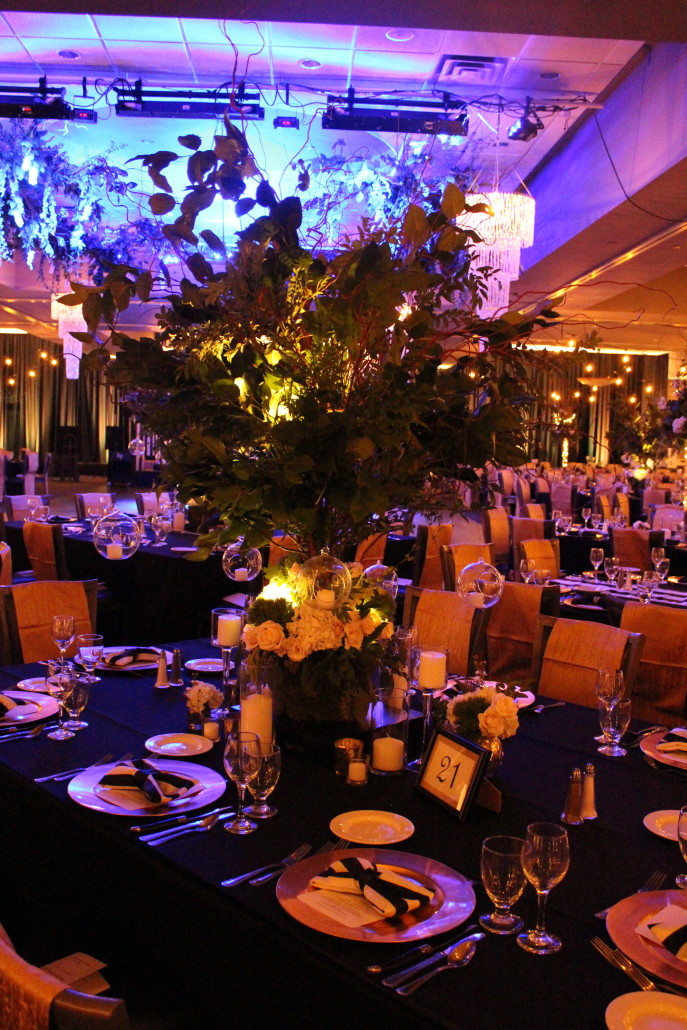 Another table centerpiece look included custom constructed trees of curly willow and lush greenery, with a base of overflowing flowers and greens. The trees were lit from inside, and votive candles were suspended in clear glass globes.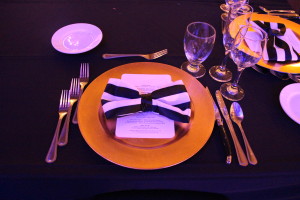 Each place setting had a corresponding solid or striped napkin tied in a bow tie, placed atop a metallic gold charger plate complementing the gold chair back covering.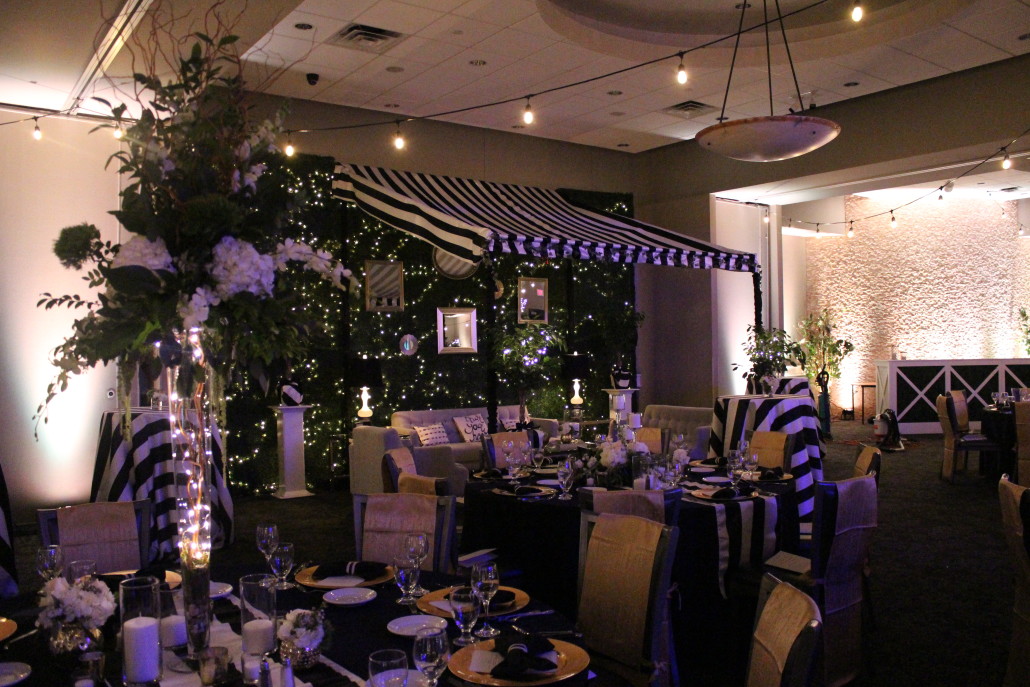 For the first time in 2016, the ballroom had a special lounge area for party guests to enjoy throughout the evening. We designed the backlit hedging as the backdrop, constructed the black and white striped awning, and placed modern furniture pieces creating a relaxing yet upscale area.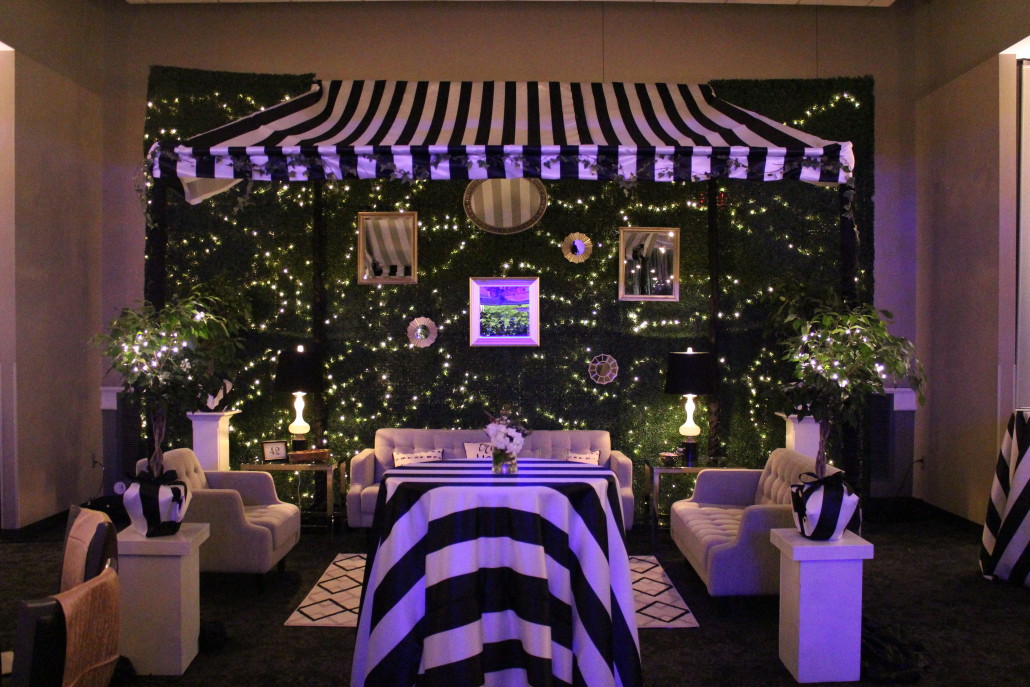 Guests felt as if they stepped into a Hamptons retreat with carefully selected furnishings and props added to the lounge area.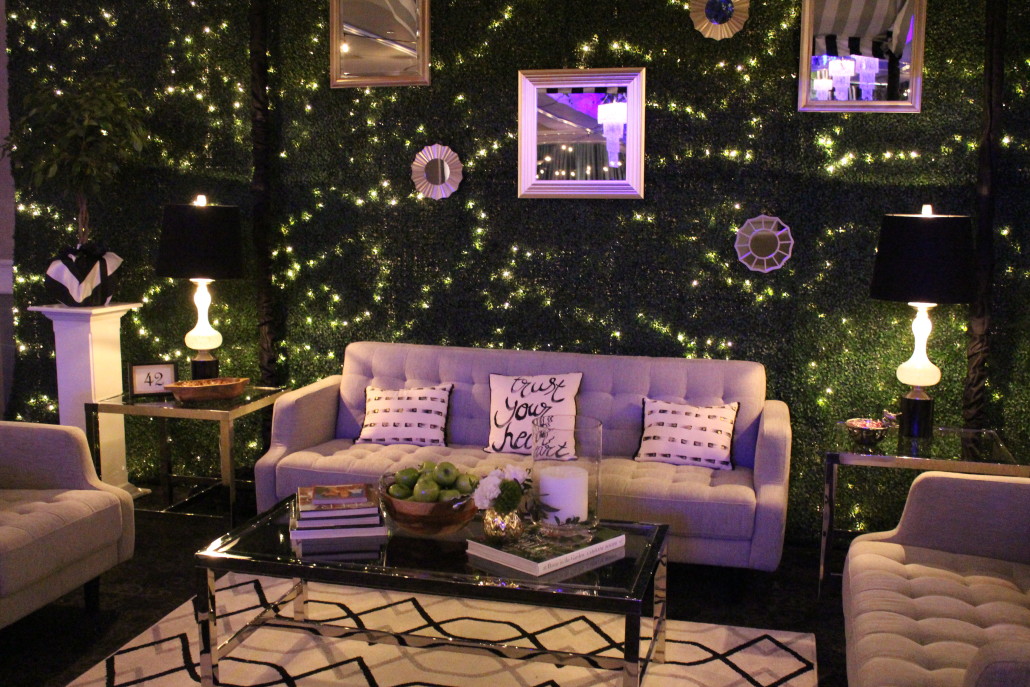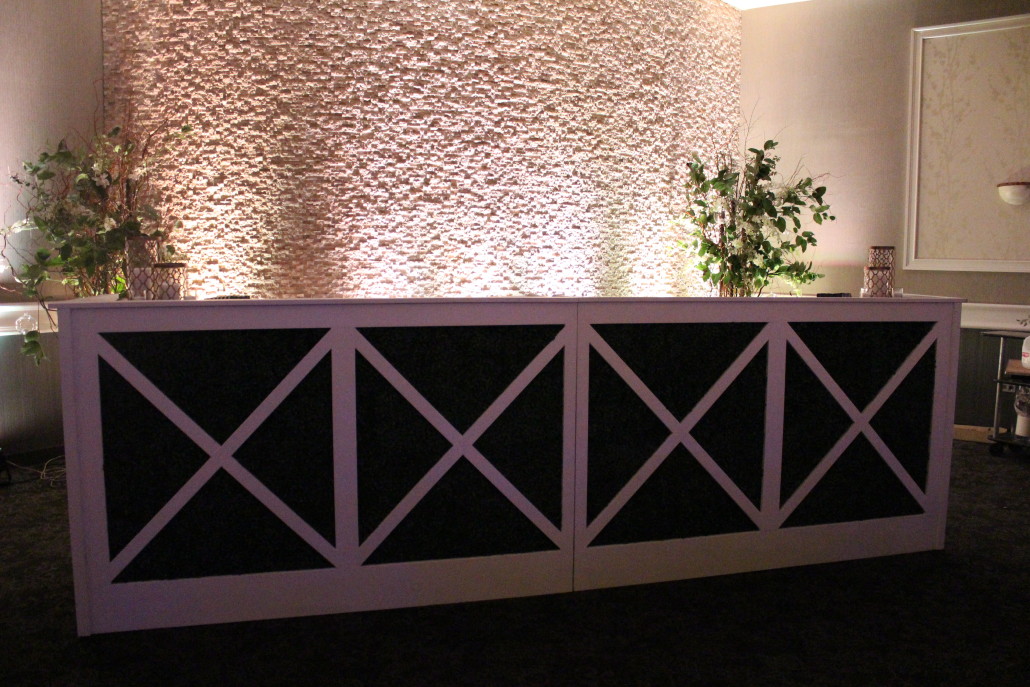 Event Floral designed and constructed custom-made bar facades to disguise the typical portable banquet bar. They were perfect focal points to each corner of the ballroom.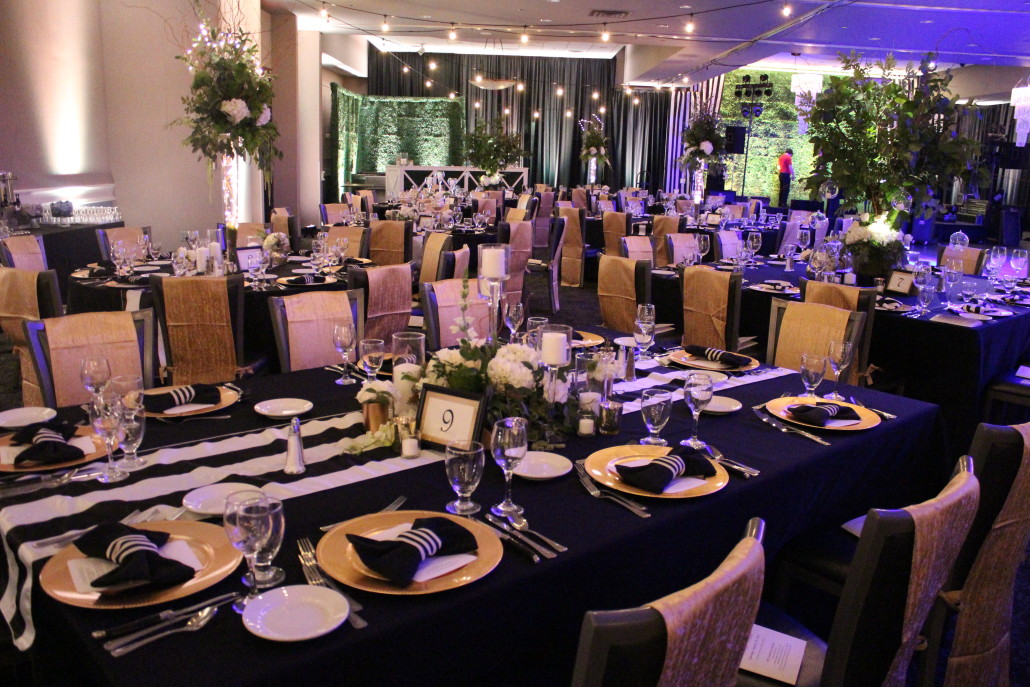 A view of the ballroom showcasing different table designs.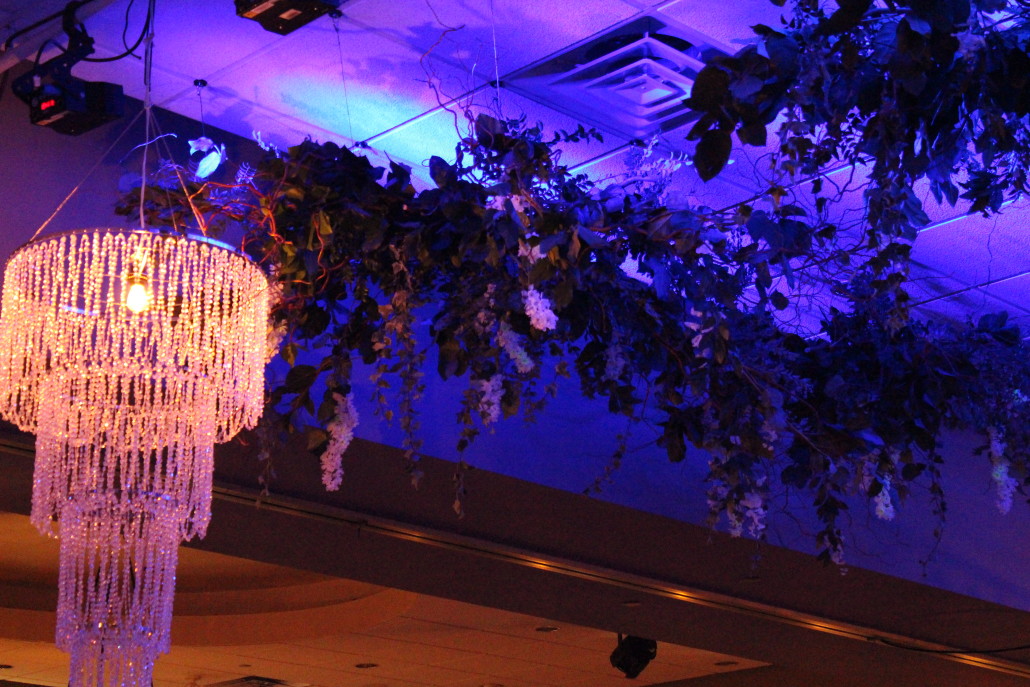 We designed and created a trellis of hanging flowers and greenery over the dance floor. SVL Productions incorporated crystal chandeliers in the design. The co-chairs Allison and Theresa wanted guests to feel like they were dancing in a garden.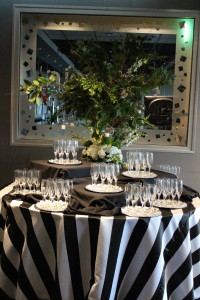 Coordinating displays were placed in the entrance lobby to introduce the theme and color scheme as guests arrived.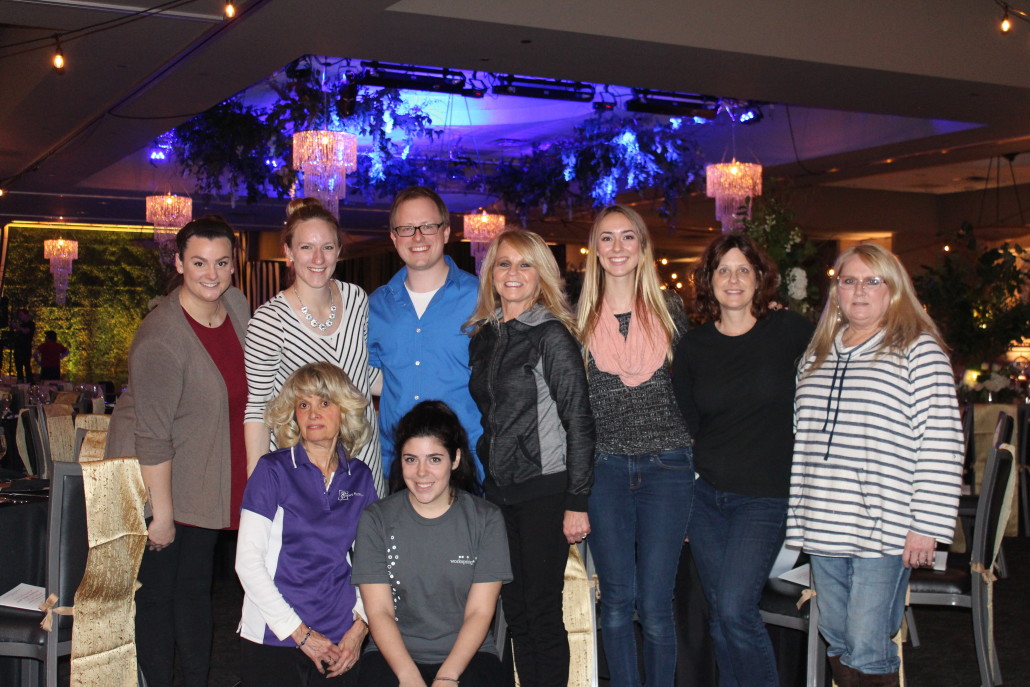 The Event Floral team who worked hard to execute a beautiful event!
Back row: Korissa Steger, Owner Erin Stoffregen, Manager Jordan Calgaro, Kim Dazey, Lauren Grabow, Karen Larson and Sherry Farmer. Bottom Row: Head designer Diane Didier-Adolphson and Rose Hepburn.